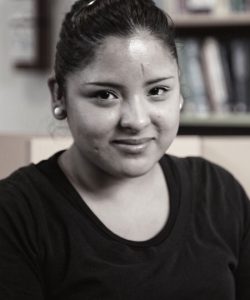 Karla Jacinto is a sex trafficking survivor and activist, who was sexually exploited from the age of five and prostituted from ages 12 to 16. Forced to service 30-40 men each day, she estimates that she has been raped 42,200 times. Now 24, Jacinto has become a global role model, transforming herself into an outspoken and successful, international activist.
Today, Jacinto is a powerful voice representing the many victims and few survivors of human trafficking, sharing her story to fight human trafficking and help other victims recover from fear, depression and PTSD and frequently speaking on important platforms in front of world leaders in Mexico, the U.S. and Europe.
In 2016, she spoke before Congress, helping pass the International Megan's Law, which requires the notification of foreign governments when a U.S. citizen who is a registered sex offender in a crime involving a minor will be traveling to their country.
Jacinto collaborates with Fundación Camino a Casa, Comisión Unidos Vs Trata and Reintegra, organizations which had empowered her by providing shelter, healing, tools and education. She believes that, by fighting together, we can eradicate human trafficking and slavery.
WATCH STOPPING TRAFFIC ON AMAZON PRIME APPLE TV. Or, email screenings@collectiveeye.org to host a screening.
Connect with Karla
Instagram: @karla.jacinto.reintegra
Email info@stoppingtraffic.org to invite Karla to speak or for media/podcast interviews.