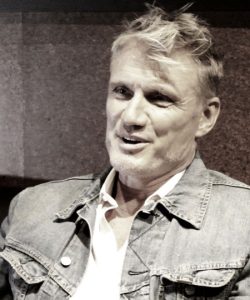 Dolph Lundgren is a Swedish-born actor, martial artist, producer and activist. He has starred in more than 40 films, best known for such box office hits as The Expendables, Universal Soldier and Rocky IV: Drago.
In 2007, Lundgren came across a news report of a group of girls smuggled from Mexico into the U.S., where they were left trapped in a vehicle near the border, dying from suffocation and heatstroke, which left an indelible impression on him.
He later co-wrote, produced and starred in the film Skin Trade (2014), an action-thriller about human trafficking. Since then, Lundgren has begun to create a platform on which to raise awareness about human trafficking; supports such organization as Cast LA; and hopes to inspire other celebrities and citizens to become involved as advocates.
Connect with Dolph
Instagram: @DolphLundgren
Twitter: @Dolph_Lundgren
Facebook: /DolphLundgren