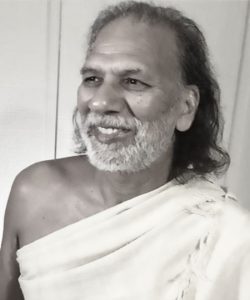 H.H. Acharya Shree Yogeesh, executive producer of Stopping Traffic, is an internationally known spiritual master and Jain Acharya, who has been teaching globally about the principle of non-violence for nearly 50 years, advocating that, through non-violence, true freedom can be achieved.  As an inspiring and revolutionary spiritual leader and an in-demand speaker, he dedicates his life to helping guide hundreds of thousands of people on their spiritual journey of self-improvement and self-realization.
Acharya Shree is the founder of Siddhayatan Tirth (Texas), International Society of Human Unity (Texas), Yogeesh Ashram (California), Yogeesh Ashram International (India), Siddhayatan Europe (Estonia) and the Acharya Yogeesh Primary and Higher Secondary School (India), where 500 children in a small village receive an education.
Acharya Shree's non-violent teachings and vision to help those enslaved inspired his chief disciple, Sadhvi Siddhali Shree, to make and direct Stopping Traffic.
Connect with Acharya Shree
Website: http://siddhayatan.org
Instagram: @AcharyaShreeYogeesh
Twitter: @Enlightenment
Facebook: /AcharyaShreeYogeesh