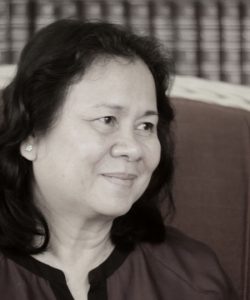 A prominent and admired, front-line activist fighting human trafficking in the Philippines, Cecilia Flores-Oebanda has helped close to 20,000 victims and potential victims over the past 25 years.
Born into poverty, Flores-Oebanda worked as a child laborer selling fish and scavenging through heaps of trash. As a young adult, she became a Freedom Fighter against the Marcos regime, eventually captured and imprisoned for four years. After experiencing having her freedom taken away, Flores-Oebanda helped to establish the Visayan Forum Foundation upon her release in 1991.
The non-profit is globally recognized for its innovative solutions to modern slavery, operating several shelters for trafficking survivors who are in the process of healing, gaining economic empowerment, persecuting their abusers and integrating back into mainstream society.
Featured by the CNN Freedom Project in the full-length documentary The Fighters, Flores-Oebanda is an Anti-Slavery Awardee, a Trafficking in Persons Hero and a Skoll Award winner for Social Entrepreneurship.
Connect with Cecilia
Website: http://visayanforum.org
Instagram: @VisayanForum
Twitter: @VisayanForum
Facebook: /VisayanForum